Conducting a Survey of the Value, the Opportunities and the Implementation of a Single Catalog for Europe
Overview
Our client, a major retailer in the automotive parts industry, wonders about the interest and relevance of developing and implementing a consolidated and single product catalog for all of its European subsidiaries.
KEPLER, through interviews and workshops with all the business lines involved, offers to identify and prioritize the value criteria of a catalog. Upon each criterion identified, the target progress margins have been assessed in order to develop the best catalog on the market and to generate a long-term and decisive competitive advantage.
Following this analysis, enabling to shape strong beliefs, KEPLER developed the strategic and operational roadmap to achieve the objective.
Context
Resulting from its external growth, our client inherits multiple and heterogeneous catalog ecosystems
Each branch has its own catalog, its data acquisition model, its cross referencing system, its own organization and data maintenance
These catalogs are the main tools for parts identification, both for integrated and independent retailers, but also for customers
Managing these catalogs monopolizes an annual investment of €4.7 million by the group
Objective(s)
Category: Co-operating the Company's Strategy
Identifying the possible and expected benefits of the implementation of a common European catalog, for the group, for each branch and for the business lines
Identifying the quality, functionality and performance criteria that guarantee excellence and differentiation from any competitor
Priorizing areas for improvement and scope for growth in relation to existing catalogs
Providing reflection guiding tools about the issues and benefits associated with the implementation of a single group catalog
It is crucial to question and work with all the business lines involved in the product catalog area and at all hierarchical levels. Indeed, if the catalog is unanimously recognized as being a strategic asset, a tool of differentiation and a competitive advantage, the assessments of the performance of the existing material are very heterogeneous. Only the horizontal and vertical decompartmentalization enable to draw up an image faithful to reality and to prioritize the areas to develop.

Loïc Bienaimé, Senior Consultant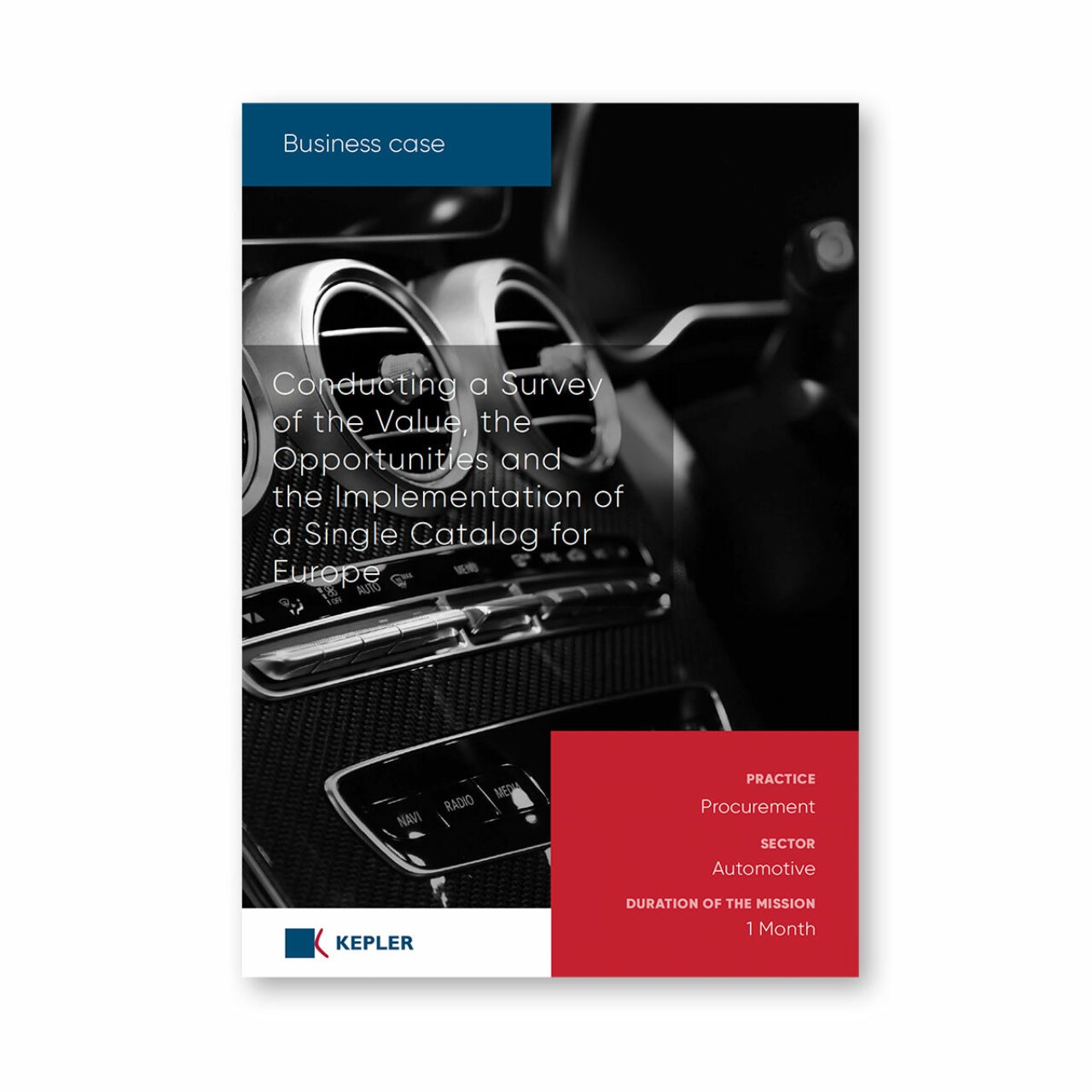 COMPLETE VERSION
Discover the methodology, tools and results supporting this business case