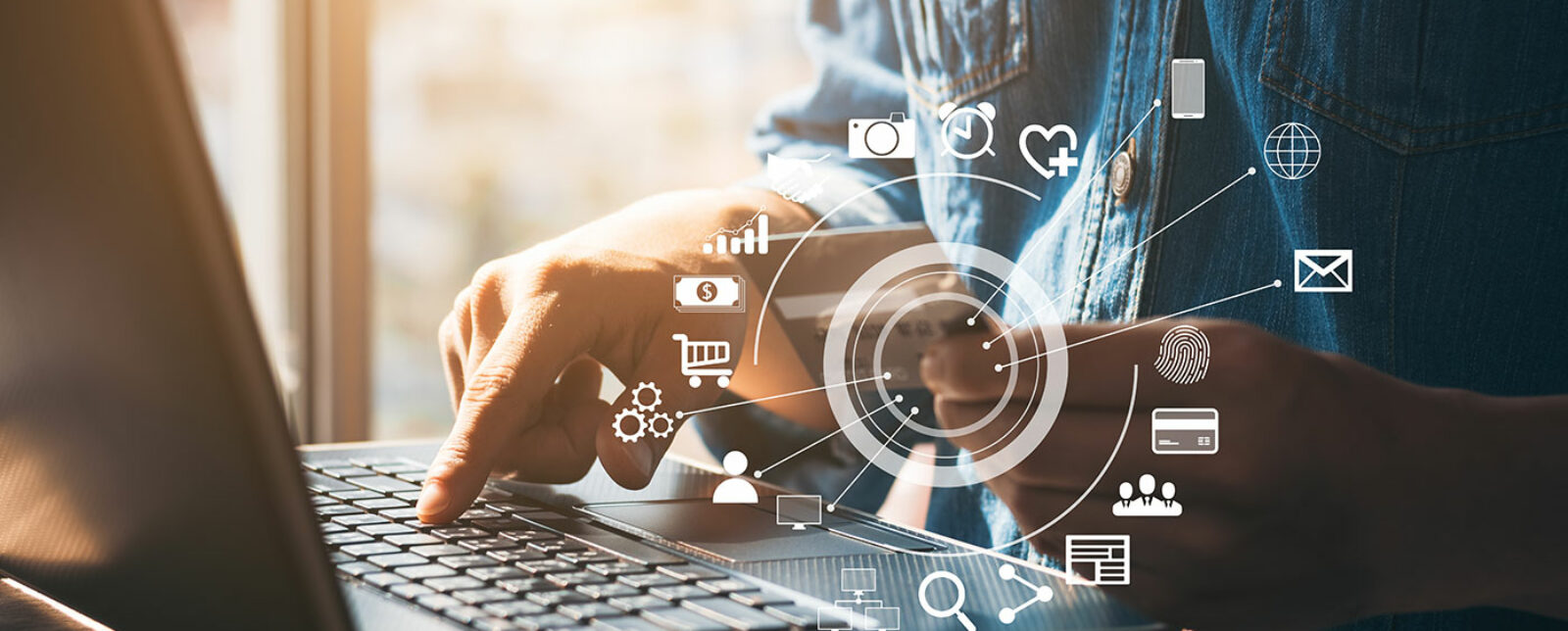 B2B Marketplace: latest developments in the sector and impacts on Purchasing
As far as the world of professionals is concerned, purchasing processes have also evolved. According to a 2021 Xerfi study, B2B purchases made online have increased by 94% over the past 5 years. Complementing this inventory, Gartner predicts that by 2025, 80% of B2B buyer-supplier interactions will take place through digital channels. A trend that is disrupting the habits and organization of companies.
---
B2B marketplaces: how to explain their success
Three key factors are supporting the rise of B2B marketplaces.
The economic model offered by these platforms: offering companies many opportunities to develop their business:

a real showcase at the national and international level
an acceleration of their digital development
a new sales channel
a way to rethink their distribution channels and purchasing processes
an ideal tool for extending their range and/or attracting new customers

Technological developments that have a positive impact on the user experience: not very ergonomic a few years ago, B2B marketplaces are now benefiting from the same developments as in the B2C sector. They offer key features that make them perfectly suited to the expectations and constraints of professionals.
The popularity of marketplaces acquired from individuals: professionals in the private sphere use these platforms for their daily purchases. Their behavior in the professional field tends to be modeled on their private experiences. They are more and more connected and informed and seek the same advantages as during their B2C purchases, namely: a wide choice of products, a quality customer experience, time savings, and very competitive prices.
The many advantages of B2B Marketplaces
Companies wishing to create a marketplace (also called operators) are in a position to expand, in an accelerated manner, their product or service offering, while delegating logistics to sellers who work through their platform. The creator of the marketplace can thus dispense with managing inventory, after-sales service or delivery, and focus on recruiting and increasing traffic.
For the seller, the marketplace represents an ideal sales channel to boost their turnover and acquire new customers. All this without having to provide any marketing effort since it is the marketplace operator who is responsible for the development of the platform, and its promotion in the broad sense.
The different types of B2B marketplaces
There are 3 main types of B2B marketplaces:
Purchasing or e-procurement marketplaces: these platforms connect suppliers and buyers. Thanks to them, companies can source quickly, with just a few clicks from a single platform. What makes their strength: they offer a large catalog that brings together many suppliers. A centralization that saves companies real-time and allows purchasing departments to easily compare prices to take advantage of the best offers. E-procurement marketplaces can be a generalist (catalog of various products and services) or even specialized to address a particular sector of activity.
Network marketplaces: this type of marketplace allows companies to centralize their entire offer within a single platform. An approach that makes it possible to easily bring together all the franchise, partner, or distribution networks to facilitate the animation and management of offers and services by sellers.
Circular economy marketplaces: just like in C2C, circular economy marketplaces are experiencing a real boom in B2B. These platforms allow companies to optimize their stocks by offering their products withdrawn from sales, the recycling of damaged products, or the rental or sale of second-hand products. Circular economy marketplaces make it possible to restore value to second-hand products. A beneficial approach both for sellers (generation of additional income) and buyers (purchase of low-cost products). In France, large groups have embarked on the creation of circular economy marketplaces. This is the case, for example, with Suez, which offers the sale of plant and animal waste through its Organix marketplace in France.
The players in this new market
The creation of new B2B marketplaces is happening month after month. The sectors targeted are varied: construction, agrifood, industry, high-tech or services. These marketplaces are more and more specialized, which tends to accelerate the transformation of purchases.
New entities can emerge from different sources:
Traditional players in Business to Business. Among companies with an online presence in 2019, one in six will have their own marketplace by 2023 (source Gartner Predicts 2019)
Leading companies in the Business to Consumer market that are developing a new branch dedicated to companies
The pure players being the object of new fundraising every day, with the promise that they will revolutionize the market to which they are addressed
Among the major generalist players offering products dedicated to B2B, we find the giants of e-Commerce:
Amazon Business: which offers professionals a dedicated space from which they can take advantage of the entire B2C offer as well as millions of B2B references
Alibaba: the Chinese giant is the largest online B2B wholesaler. It is accessible anywhere in the world and has an excellent positioning which allows companies present on this platform to benefit from real visibility
Mercateo: a platform that has supplied professionals since 1999 with office supplies, tools, IT products, packaging, cleaning products, etc.
Sectoral marketplaces and verticalization, a fundamental trend in B2B Marketplaces
Platforms specialized by sector are experiencing unprecedented growth. They allow operators to position themselves as experts in their field to offer targeted products to a tight and involved community that they are sometimes the only ones to aggregate.
This enviable position gives them a decisive advantage with new business levers:
Complement of ranges with the integration of services: financial or insurance
Advertising revenue
Income from professional events: trade shows, fairs, conferences
Revenue from generated data: market studies, benchmarks, user data
Among these marketplaces, we find in 2021:
In the field of services, a similar phenomenon can be observed:
Rise of marketplaces: what consequences within the company
Uberization – a phenomenon that puts a traditional economic system in competition with a model based on digital technologies – now affects all sectors. With the emergence of another phenomenon called "platformization", it is all professions and all the habits of professionals that are being impacted.
The creation of a marketplace within the company, if it becomes more accessible with the appearance of dedicated solutions, nevertheless requires the provision of adequate means.
Study and selection of a platform of choice
Development or acquisition of a Saas solution
Deployment or update of CRM for data sharing
Establishment of a payment operator, etc.
Creating a Marketplace will have collateral effects on many internal services, starting with logistics
Logistics are at the heart of the Marketplace issue. This is evidenced by the competitive advantage acquired by Amazon with this main lever. At KEPLER, we recommend rethinking logistics resources in a Value-to-Serve logic. This is a project which on its own can impact the entire economic model of the company. The deployment of a Marketplace therefore quickly becomes a strategic issue that should not be taken lightly.
Beyond its creation, the simple integration of Marketplaces into internal processes raises questions of resources and skills
Dedicated e-commerce teams can be created, which can lead to a revitalization of teams with the integration of younger profiles ("digital natives")
Teams must be trained to be able to follow the latest trends and gain responsiveness in an ultra-dynamic market
Data scientists, application designers: faced with the mass of data set in motion within marketplaces, greater control of the data will be required
Another business function that can benefit from this boom in marketplaces: Procurement
Using a marketplace allows access to a very wide range of products and services with less sourcing effort. Everything is gathered in the same platform which allows him to easily compare and order the desired products in just a few clicks.
The marketplace provides access to more products, more quickly and at ever more competitive prices, three strengths that are now pushing purchasing departments to seriously consider this model.
To meet the needs of professionals, B2B marketplaces are called upon to imagine new functionalities:
Specific payment process (direct debits, deferrals, outstandings, etc.)
User rights management (and teamwork)
Response to calls for tenders
Quote requests (or reverse auctions)
Decreasing tariffs taking into account tariff reductions according to different scenarios
Marketplaces simplify exchanges and relationships between companies. Thanks to a reduction in intermediaries, a simplification of payments, and a centralization of orders, they attract new purchasing professionals every day.
How to integrate Marketplaces into your purchasing processes
With the appearance of these new tools and the decision-making methods associated with them, several challenges are emerging within the Purchasing teams. Most of them stem from a phenomenon of process acceleration and will require a review of the purchasing organization model with several issues in the background:
An exacerbated role of information and data in a perspective of rapid decision-making
A necessary shielding of the purchasing process in a context of dilution of the personal seller-buyer relationship
An ability to conduct extensive monitoring
Appropriate delegation rules
Example of the use of a marketplace by a Purchasing department: Class C purchases (Tail Spend Management)
The first objective of Tail Spend Management (TSM) is to improve process efficiency. It also makes it possible to control spending. These two objectives are fully compatible with the expected benefits of the integration of Marketplaces. This is good news since such an approach makes it possible to embark on a lower risk area of expenditure.
At the end of a TSM process, the Purchasing organization can aim for three types of transactional gains:
Faster purchase requisitions and purchase orders that save time
A marketplace that acts as a single supplier, instead of having to create a large number of accounts
Invoice processing saves time and eliminates postal costs for the supplier, so no VA on the customer/buyer side
KEPLER teams carry out business cases and opportunity studies to validate the use of a marketplace. During the deployment, functional tests can be carried out with a specific log to verify the capacity of the Marketplace (s) to meet the needs in terms of availability of items, prices, and delivery times. So many precautions can limit risk-taking a little more when switching to the new process.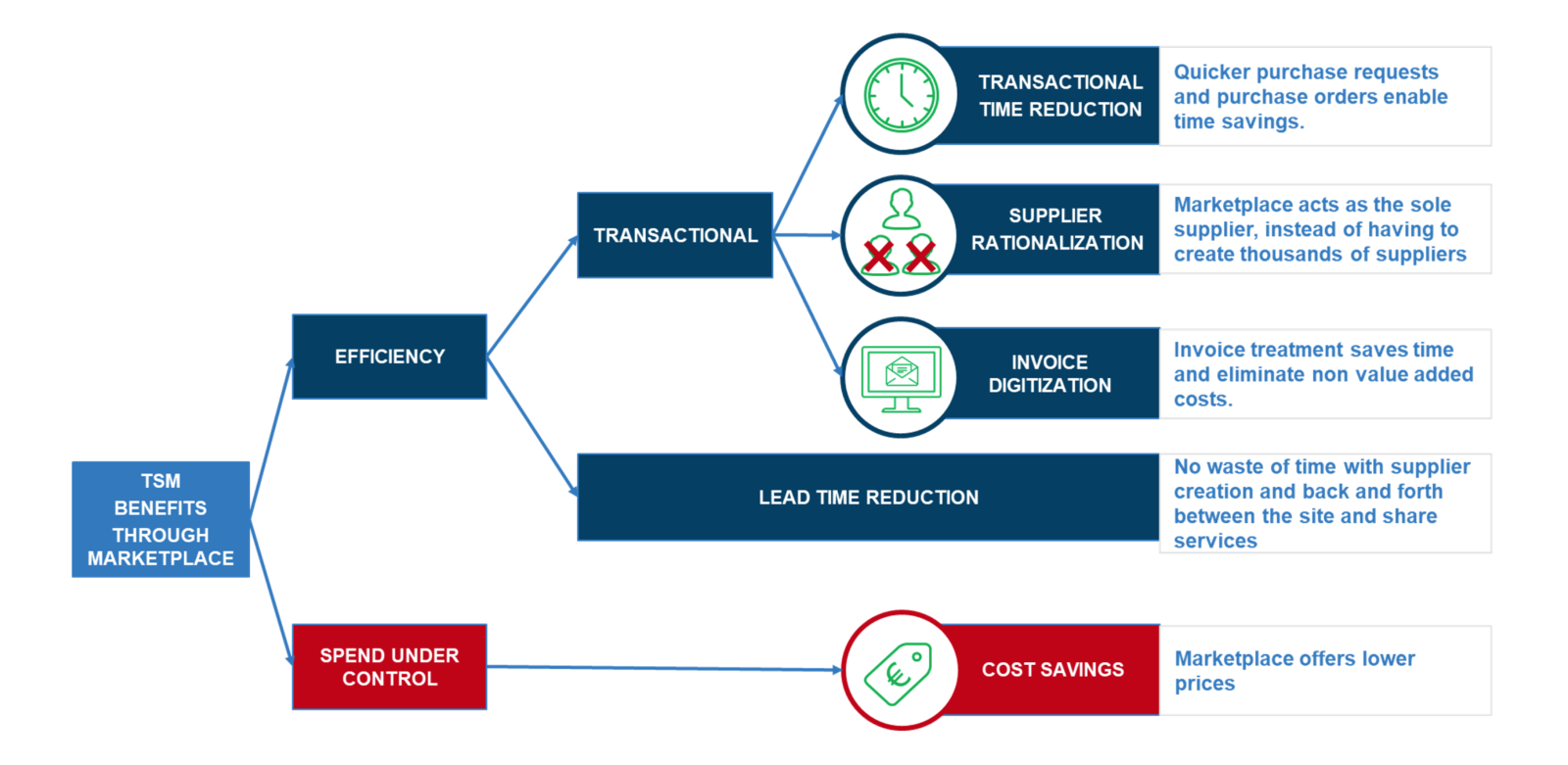 During our missions, we observe that a complete digitalization (including the invoice) of an order processing via a Marketplace, makes it possible to reduce the time of more than 5 days per order. In addition, depending on the ceiling for the amount of the order, some of our customers have been able to reduce the number of their suppliers between 30% and 50%.

Nacer Madi, Director, Paris Office
While they impose themselves on the market, marketplaces nevertheless suffer from identified limits
If all the indicators are generally green, the marketplaces market is not exempt from all reproach and some shadows on the table remain on the buyers' side as well as the sellers' side:
The products are often less well highlighted
In some cases, the purchasing process lacks ergonomics
The brand can lose its identity as soon as it puts its products on sale there
Lastly, marketplaces are places of distribution and not advertising channels. A customer who buys on the marketplace is therefore not automatically redirected to the brand's website or to its similar products, which can pose a marketing problem.
The limits observed on current B2B marketplaces cause the mistrust of some buyers. But the parallel with what has been observed in the B2C market is inevitable. If this experience is to be believed, online marketplaces, whatever their current faults, will quickly become essential.
What future for B2B marketplaces?
Long underestimated, the progress of e-commerce in France is now indisputable. In B2C as in B2B, online exchanges are growing and contrary to popular belief, these platforms are not the prerogative of the younger generations. Baby boomers have also demonstrated their taste for digital. It is becoming clear that offering products and/or services without going through these new online sales methods will no longer make it possible, in the near future, to reach so many customers.
The online marketplace industry should also experience new developments with concentrations and the emergence of leaders capable of bringing together the three types of marketplaces (e-procurement, networks, and circular economy) within a single interface. . Companies and their purchasing departments will no longer need to choose and will be able to benefit through an all-in-one service.
Marketplaces, therefore, represent a strong lever for potential optimization for companies, provided they anticipate and adapt to them.
Do you want to take advantage of B2B marketplaces within your organization?
We have received your message and will respond as soon as possible