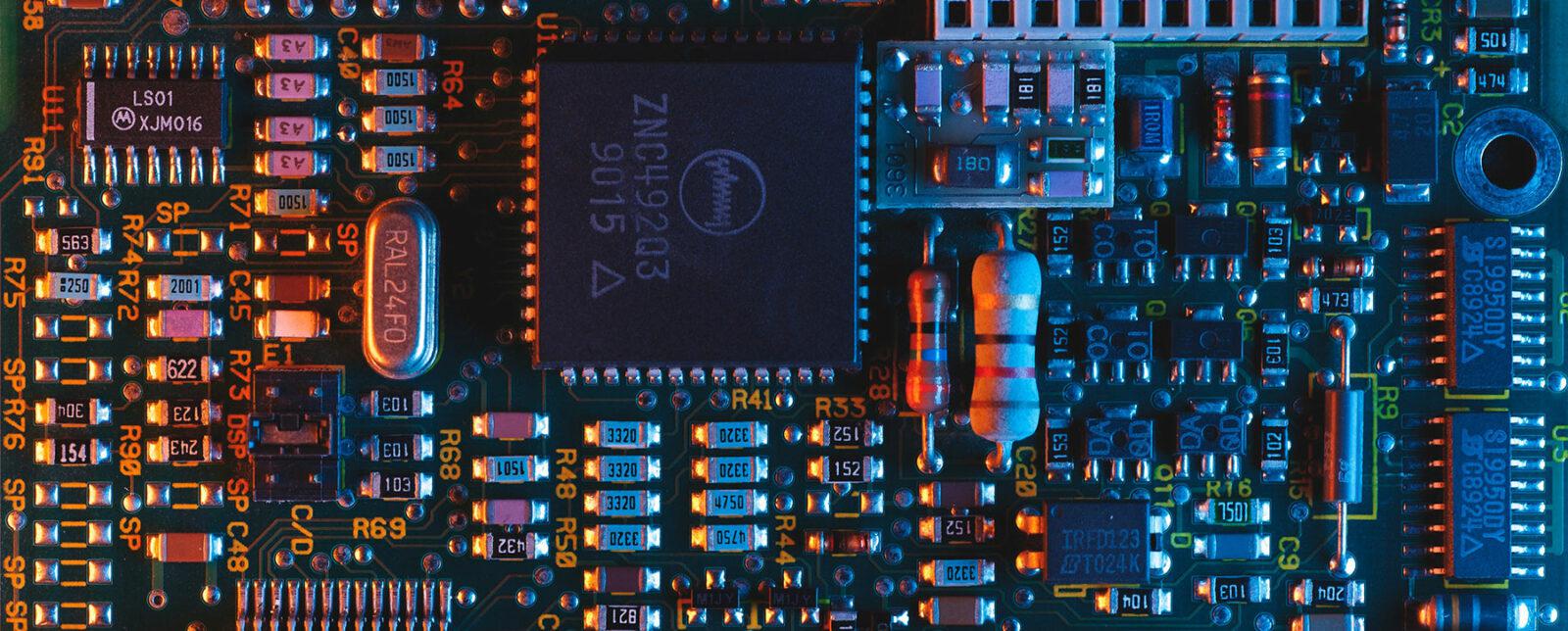 Industry 4.0: What are We Talking About?
Industry 4.0 has become obvious to everyone, but what are we talking about? A decryption of the real nature of the concept is needed.
---
Industry 4.0, Battles of Ideas Around a Name
First introduced during the Hanover Fair in 2011 (Wahlster, 2012), the term stems from an initiative launched by the German Federal Government as part of its global High-Tech strategy. It was repeated two years later with an introduction to its concepts in a first academic publication: Lasi et al. (2014).
As a reminder, the first industrial revolution reflected the automation of production using steam and water (Industry 1.0). The second, electrification (2.0). More recently, the third saw the advent of computers and digital technology (3.0).
All these revolutions were linked to inventions based on breakthrough scientific discoveries (Watt, Tesla, von Neuman) giving birth to new industries.
It should be noted that other revolutionary inventions, such as the wireless telecommunications of Marconi (Nobel Prize of 1909), however at the base of the current world communication, did not necessarily give birth to a recognition as new. Industrial Revolution. There is, however, a matter of debate if we add the fact that it is this invention also at the origin of the varied possibilities of control of the supply chain in modern production.
Industry 4.0: Recognition Without Any Breakthrough Scientific Discovery to Support
The main components of Industry 4.0 have already existed for a long time: sensors, PLCs, big data, Internet of Things, cloud computing, 3D printer. Without daring to qualify the name of pure Marketing creation, we would be tempted to defend the idea that Industry 4.0 represents a complete reorganization of the mode of production rather than a revolution as such. One thing is certain, this trend gives pride of place to the network.
The new generation of factories that should result from this phenomenon aims to boost the dynamism of European industry through several actions:
Modernization of production,
Increase in competitiveness,
Flexibility in relation to demand,
positioning in the face of the challenges of globalization.
The Reasons for a Shared Enthusiasm
Every Business Today Must Communicate Digitally.
According to recent studies, several hundred billion 4.0 investments are launched each year around the world. Companies hope for returns on investment in less than 2 years by generating several additional income points and reducing their costs at the same time: according to studies from 2 to 4%.
In this context, the main players are banking on this high potential market and opening the prospect of a platform war for the factory of the future:
Siemens with MindSphere,
GE with Predix,
Bosch with IoT Bosch Suite,
ABB with ABB Ability, etc.
Today, global players such as Siemens, Bosch, SAP, Deutsche Telekom are therefore positioned. They have entered into alliances and are developing Industry 4.0 offers while developing demonstrators (Kohler C&C, 2015).
Countries do not hesitate to follow this movement because they see it as an opportunity to breathe new life into their countries, regions and cities. In addition, technological fertility with a great computational capacity and the new generations increasingly "connected", are the key ingredients to promote this digital transition since the internet bubble.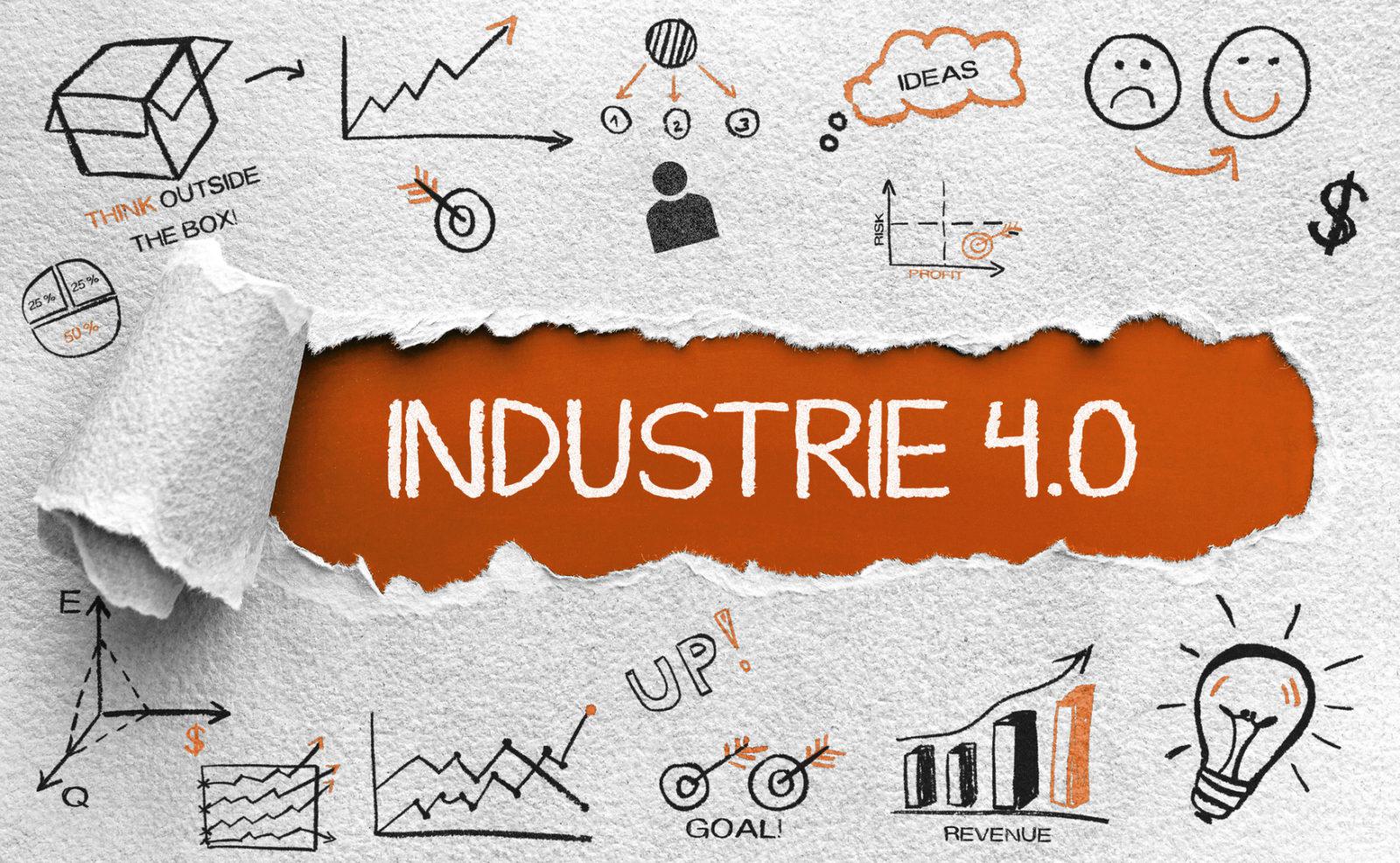 A V3.X Industry?
From our point of view, Industry 4.0 will first and foremost be a retrofit factory: the "pick and place" has allowed Japanese machines for decades to cycle automatic machines and unload them. The same is true for robotic handling trolleys ensuring the transport of semi-finished products, from post to post, on less and less predefined routes.
Until now, they had never convinced French industrialists, although they have been operating to everyone's satisfaction in the same Japan for more than 20 years. Once this has been done, the plant will already have a more modern "look".
The future promises an extension of current breakthroughs into a number of broader industrial areas, with more opportunities to come.
Therefore, calling Industry 4.0 a "revolution" is inconsistent with the first three revolutions, as it is simply a natural evolution of computer-integrated manufacturing (CIM).
In our opinion, it materializes rather in small steps that one could possibly call V.3.1, V.3.2, etc.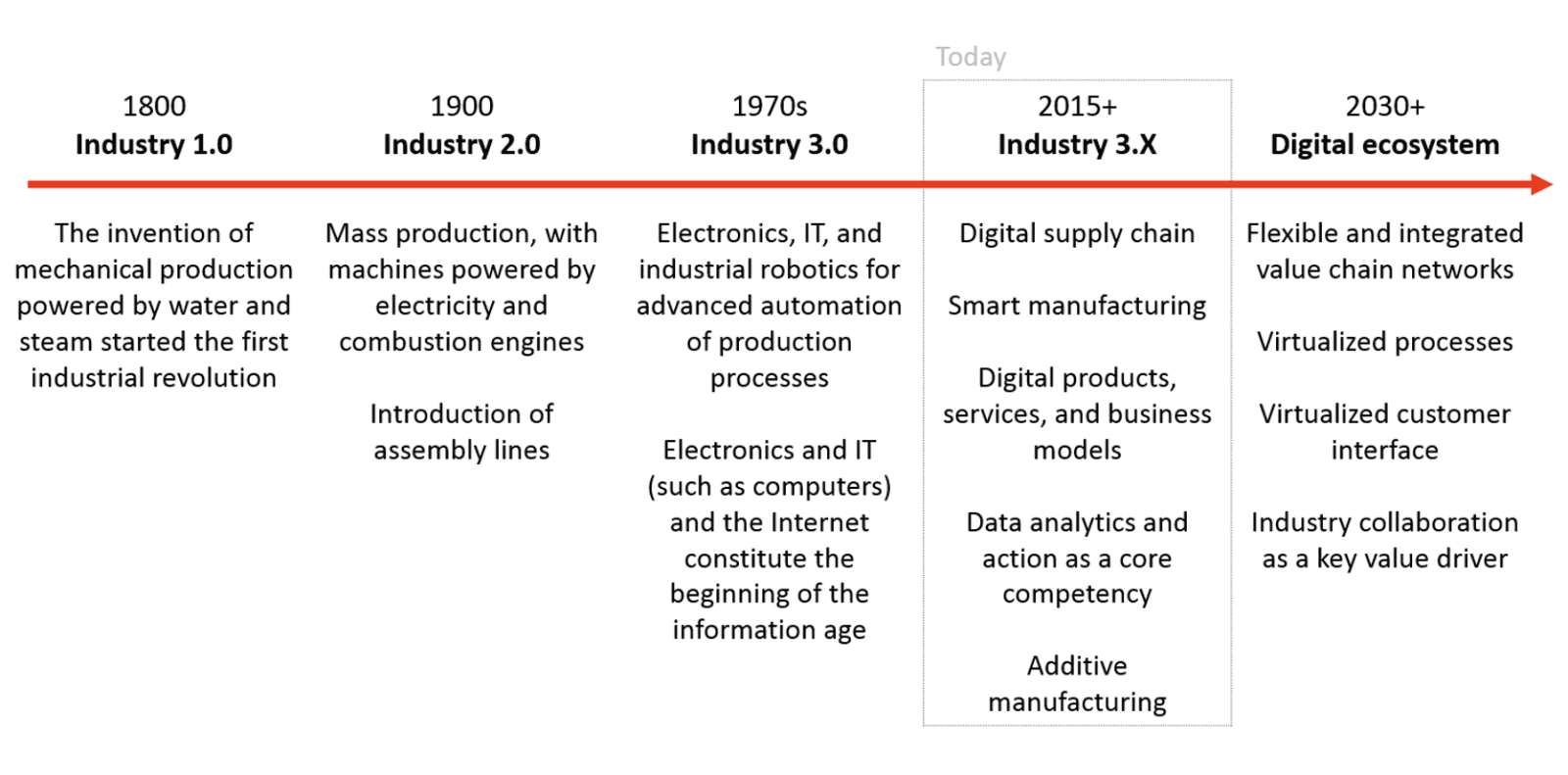 The V.3.x Industry, which could be described as an 'advanced digitization' stage industry, will concern companies that are customer-oriented through e-commerce, digital marketing, social media and client experience.
Ultimately, virtually every aspect of the business will be transformed by the vertical integration of R&D, production, marketing and sales and other internal operations. New "business models" should also emerge, based on this progress. More than a revolution, we will gladly talk about the evolution towards a complete digital ecosystem.
A Concept Tested Against Reality
A study by the DZ Bank (sample of 1000 companies with a turnover of between 0.5 M € and 125 M €) published in 2014 showed that:
35% of Mittelstand companies thought digitization was of little relevance to their value chain
14% that she played a weak role.
5 Factors of Reluctance Detected
1
Cultural and psychological barriers to entry. The graph below illustrates the many sources of uncertainty for business leaders, which are all obstacles to the introduction of Industry 4.0.
2
The financial resources that companies may lack to implement the digital industry.
3
On the management side, there is a lack of global digital vision. Executives struggle to see the potential of a digital industry and the associated ROI.
4
The majority of companies today find themselves overwhelmed by the complexity of the "digital" theme and all the implications in the business.
5
Risks related to cybersecurity: for the German Academy of Technologies (Acatech), there is no deficiency in security solutions, only those that exist are not used systematically.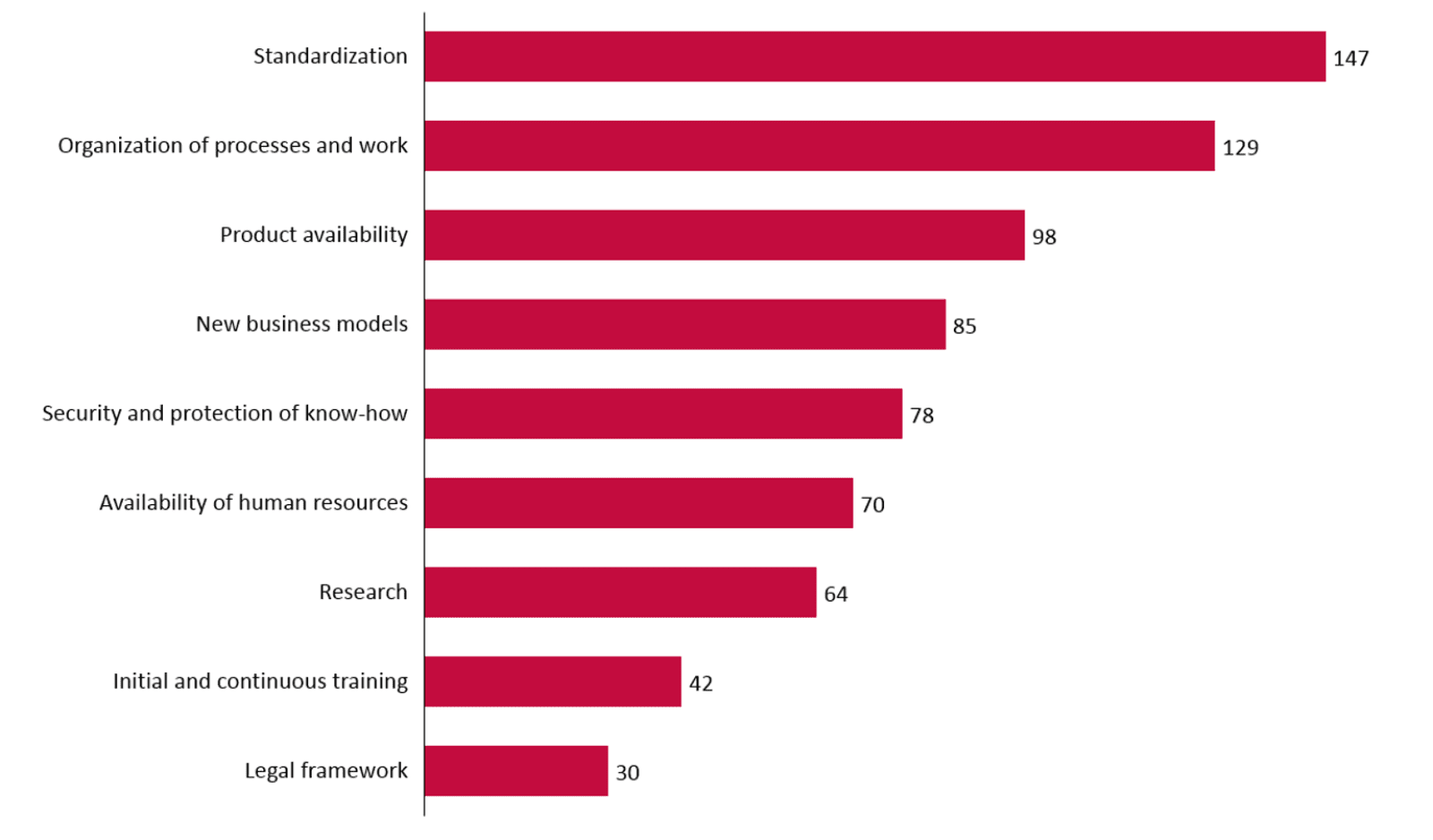 Sources of Uncertainty for Business Leaders in 2018
Industry 4.0 vs. The Other Models
Although the specific techniques of Lean production systems are not yet in place in all the workshops of the production sites, the "Smart Factory" with the very promising German label "Industry 4.0" is already making its show.
While the Toyota Production System (TPS) has established itself as the most efficient production system, Industry 4.0 is still in the framing phase with the ambitious goal of becoming a cyber-production system.
The partial and sometimes limited knowledge about Lean production systems leads to distorted ideas that the two approaches are incompatible.
Conclusion
The implementation of a fierce digitalization without a management of "just necessary" in a logic of change management would lead to waste in today's industry, where man-machine continues to coexist and will do so. in the next decade. Certainly, the digitized industry will make the production system more flexible, but it is not certain that it will be faster, smoother, more stable and more precise. The Industry of the Future (whether we call it 4.0 or 3.X) will materialize anyway, with or without the support of a politico-economic initiative. In fact, digitalization in the industry started a long time ago and is still ongoing.
Of course, it is the connection, availability and processing of data that will make the difference in the future. So critical minds might even say that Industry 3.X is a self-fulfilling prophecy to some extent and won't meet the high expectations it raises.
We will see in a future publication the different types of technologies offered by, let's be forgiving, "4.0" and a brief definition of TPM.
Sources:
Kagermann, H., Wahlster, W., & Helbig, J. (2013) Recommendations for implementing the strategic initiative Industrie 4.0 – Final report of the Industrie 4.0 Working Group. Frankfurt am Main: Communication Promoters Group of the Industry-Science Research Alliance, acatech.
Kohler C&C (2015). Industry 4.0: what digital strategies? 1–67.
Lasi, H., Fettke, P., Kemper, H.-G., Feld, T., and Hoffman, M. n, "Industry 4.0," Business & Information Systems Engineering, vol. 6, no. 4, p.239, 2014.
Nelles, J., Kuz, S., Mertens, A., and Schlick, CM, "Human-centered design of assistance systems for production planning and control: The role of the human in industry 4.0," in Industrial Technology (ICIT) , 2016 IEEE International Conference on, pp. 2099–2104, IEEE, 2016.
Schrauf, S., Berttram, P. (2016). How digitization makes the supply chain more efficient, agile, and customer-focused.
Wahlster, W., "From industry 1.0 to industry 4.0: Towards the 4th industrial revolution," in Forum Business meets Research, 2012.