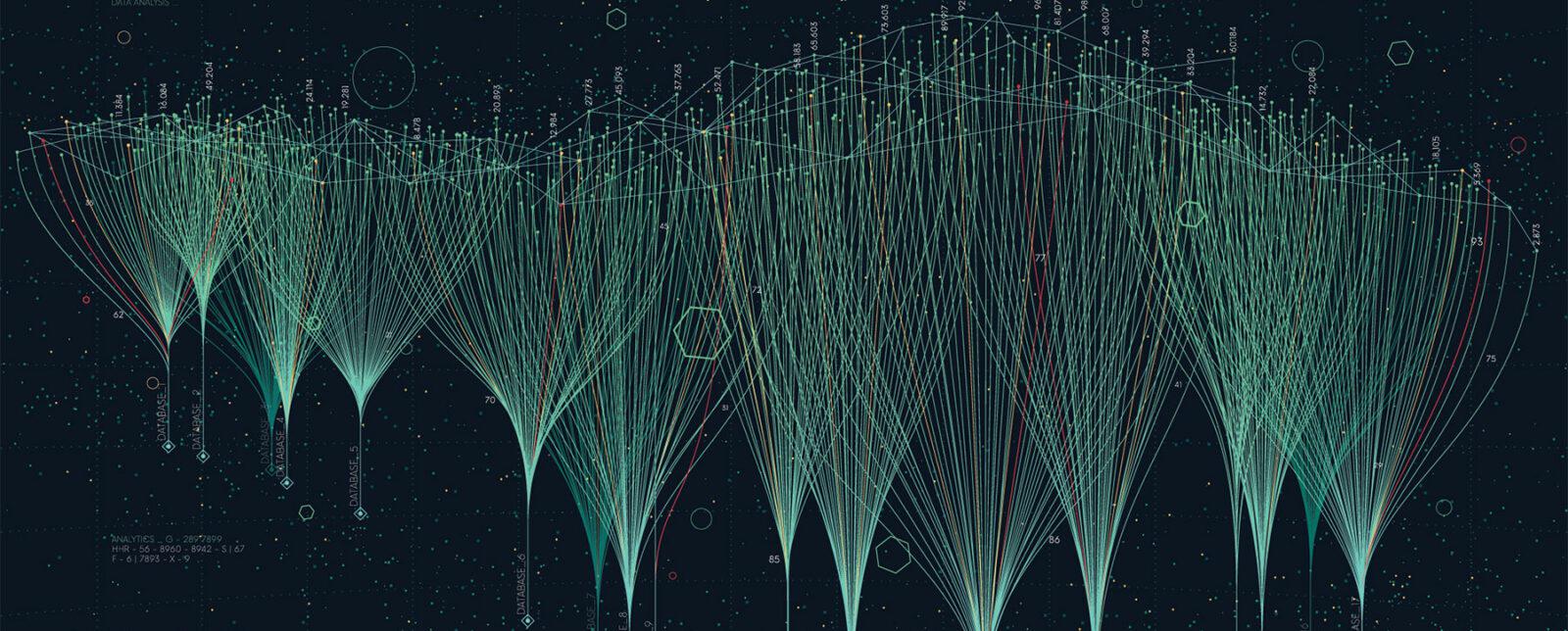 Data Driven Cost Estimation: Taking Cost Savings To The Next Level
As the COVID-19 Pandemic changes all aspects of the business landscape, the Procurement function is taking center-stage in areas of risk mitigation, cost control, innovation, and ensuring overall business continuity. As companies around the world search for levers to gain a competitive advantage in this challenging environment, supply cost reduction is proving key to protecting and boosting operating margins.
---
How Artificial Should Procurement Intelligence be ?
Companies need to adopt a more data-driven, strategic methodology to derive savings from these strategic partners. This is when Machine Learning and data driven approaches can renew the function and accelerate efficiency.
Traditional cost reduction measures are becoming less and less effective, as supplier networks become more strategic in nature. Value within the supply chain is no longer solely a function of the lowest product or service provided.
Therefore, it should not come as a surprise to see supplier leverage moving away from the purchasing organization and becoming more neutral (a zero-leverage scenario based on the give and take of vendor/supplier dynamics).
Data Empowered Procurement
Three ways Data can add to the function
1- Estimate the cost of a new product or service with near-perfect accuracy
2- Identify savings opportunities across entire product categories
3- Provide live anonymous benchmarks on specific categories
A Fasteners' Category Case
Let's assume we are comparing two screws within your Fasteners purchase category.
Both screws have identical raw material, head type, and finishing, and very comparable length, width, heat tolerance, and thread length, and are purchased in similar quantities over the year, however the price of one screw is 25% more expensive than the other. That 25% difference in price cannot be explained based on its attributes, and therefore becomes the basis for cost reduction at the SKU level.
This simple example, which most likely exists several times over within your purchase portfolio, describes precisely what easyKost uncovers for its users. It is a fast, accurate, easy-to-use tool that delivers serious results.
Mr Jason Mallory
KEPLER N-America
Cost Reduction : Based on Data? A Simple Ask
With a data-driven approach, instead of a blind request of 10% reduction in price across the entire portfolio, you are simply asking your suppliers to deploy a consistent pricing model for the products you purchase. Kepler has found this is much more well-received by suppliers, as it is a focused ask rooted in in-depth analysis of their own pricing structure.
KEPLER and easyKost Associating
EasyKost is cost modeling software utilizing machine learning and your own purchase data to identify pricing inconsistencies at the SKU/PN level. With KEPLER, they are working to help the client :
establish cost savings,
consolidate their supplier base
reduce the number of Part Numbers in their overall portfolio.
Introducting the Future of Costing
Turbo-Charging Cost-Reduction With Data
Kepler Consulting has partnered with easyKost, a leading Costing software Company that utilizes Machine Learning to identify savings opportunities within a company's existing purchase portfolio.
Using a Random-Forest based algorithm, the solution compares your own internal purchasing data against the attributes of the products you purchase to identify inconsistencies in your supplier's pricing.
The discovered inconsistencies are then used as the basis for renegotiating pricing with suppliers.
This thoughtful, quantitative approach is helping numerous companies around the world turbo-charge their savings achievement, streamline the supplier base and create an overall more efficient supply chain.
Possible Use of Cost Estimating & Data Mining Softwares
Estimation of the cost of a new product/service with near-perfect accuracy
Identification of savings opportunities across your product categories
Provision of real time & anonymous benchmarks on specific categories
Random Forest : Cost Estimation Based on Drivers
Cost is estimated through a thousand decision trees in a random forest.
The method leads to a 60%+ increased accuracy compared to traditional statistical methods.
The Software analyzes all the correlations between the actual purchase prices and the product or service "cost drivers" in order to identify inconsistencies and optimization opportunities.
Collecting Data
By extracting attributes from Client drawings, our off-shore data team based in Chennai India, creates a database that captures all cost drivers per part number.
Cost drivers are defined by family using technical expertise
For each family, a database is created capturing cost drivers by part
Cost drivers are normalized to improve the model
The full catalog of attributes is provided to Client to close the project
Machine Learning estimations predict the best price that key strategic suppliers should be able to offer on existing parts that are currently supplied by transactional suppliers.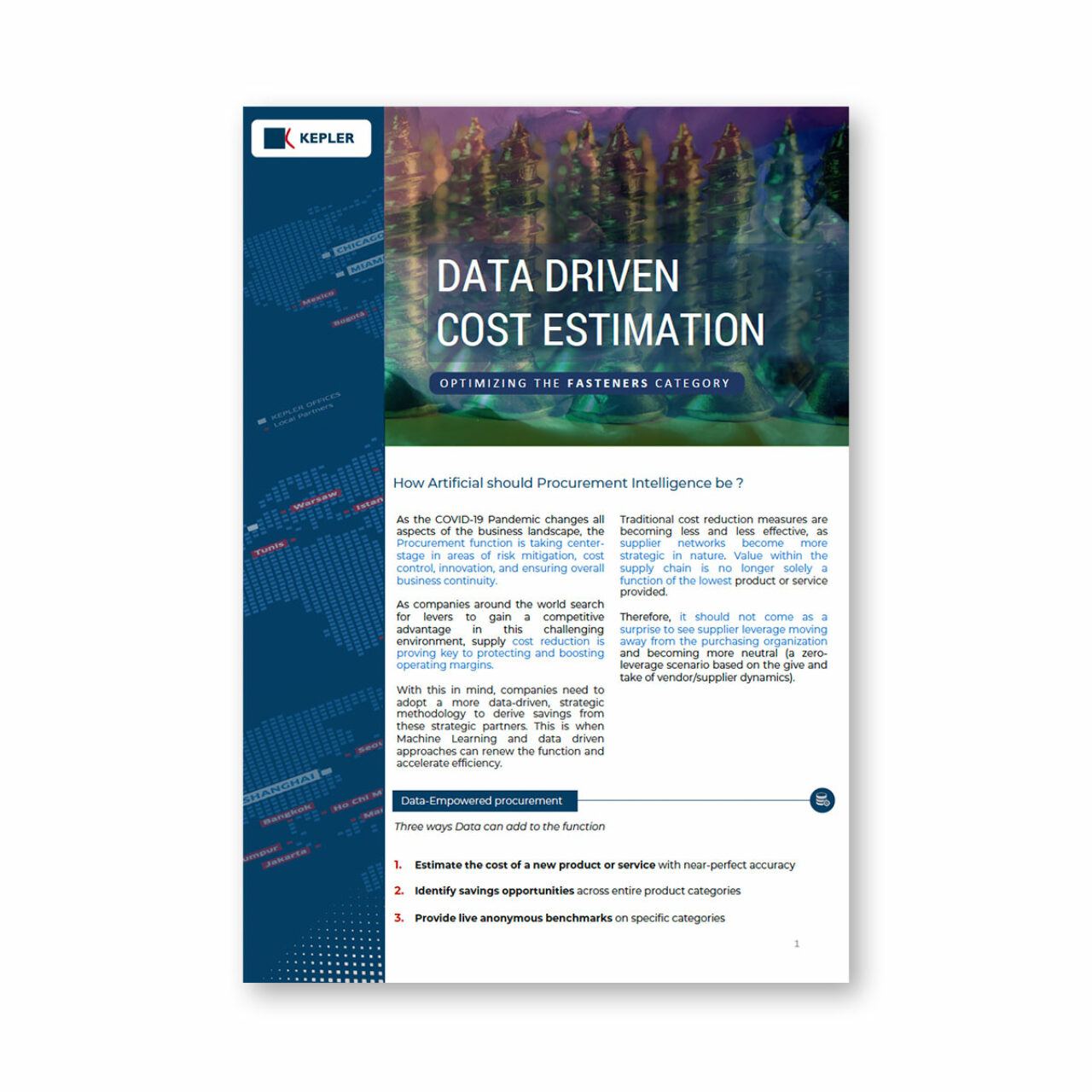 COMPLETE DOSSIER
Discover the detailed methodology and the deliverables obtained as part of this approach